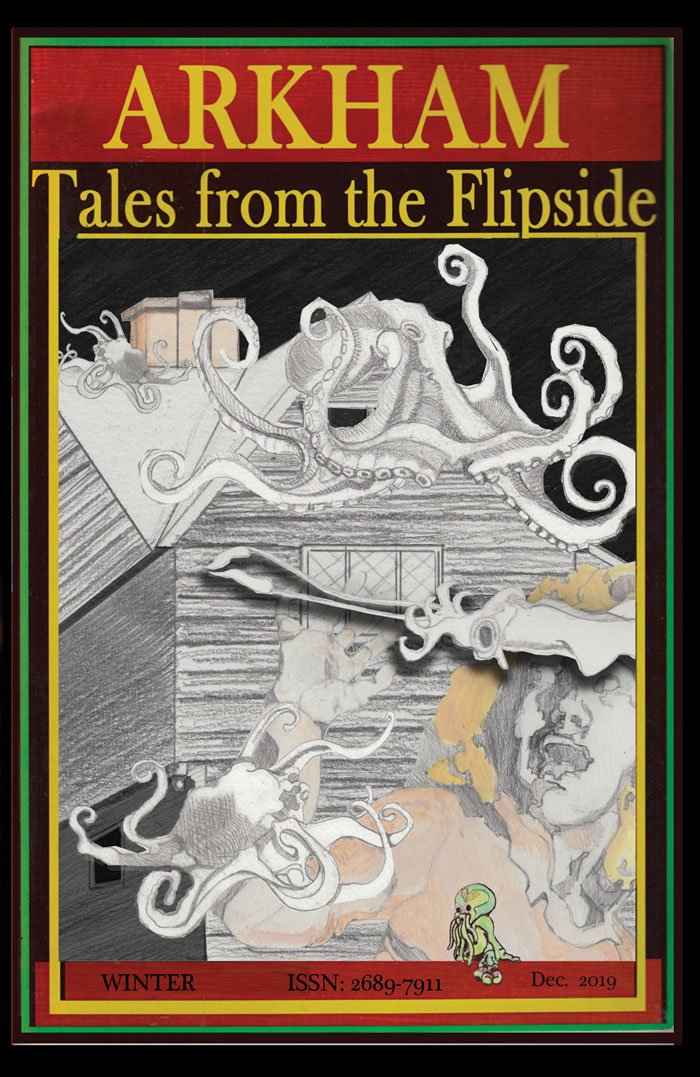 Historic Fiction / Fantasy / Mystery / Sci-Fi / Illustrated
This installment of the quarterly showcases new and old masters. Poe, Hawthorne, Lovecraft, and Garrett welcome Dowgin, Maguire, and Deschenes. Secven illustrated stories of murder, mystery, fantasy, thriller, and Sci-Fi.
In the first tale we have the latest from The Sinclair Narratives called Summer Cottage from Hell where everyone's favorite immortal, Henry Sinclair, Teddy Roosevelt, and Nikola Tesla must solve the murder of President Taft's Summer White House landlord in Beverly Ma involving Lovecraftian monsters, Illuminati, and bodily possession. This is followed by Matt Maguire's (Wolverine, and Heavy Metal Magazine author and illustrator) The Wheel in which a father and daughter must survive the wheel of post apocolyptic societies. Then we have Randall Garrett's The Eye's Have It, one of his best Lord Darcy mysteries. Following that we have Lisa Deschenes' Teavanna involving a unhealthy obsession for teapots. Coming in next is Lovecraft's Thing on the Doorstep, the story that created Arkham Aslylum that is within the Batman canon. Nathaniel Hawthorne chimes in next with Dr. Heidegger's Experiment where some crotchy old people gain access to a draught from the Fountain of Youth. Finishing up this installment is Edgar Allan Poe's Tell-Tale-Heart based on the real murder of Captain Jospeh White, the most infamous murder of the 19th century touching the highest ranking members of our nation. That murder is also the basis of the book Murder on the Common which will be released in April, 2020 on the 290th Anniversary of Captain Joseph White's murder; for now you are welcomed to read installments of the book for free every Tuesday. Start read today!
All seven tales weave in and out of each other in the narratives and within history, see if you can find all of the connections!